How successful is your sales team? If you're like most agencies, you would answer "not as successful as they should be" to "they're doing okay, but could be better." According to sales training firm Aslan, more than 50% of sellers missed the quota in 2018. This has been the case for over five years. 
The problem could be with the tools you've equipped them with or lack thereof. Here are questions to ask yourself:
What sales enablement and readiness practices are in place at your agency?
What are you doing to increase sales results and productivity?
As more people use sales terms like "sales enablement" and "readiness," it is essential to understand the differences between each. Beyond that, you want to find a platform that makes achieving them easy to do and even easier to succeed in.
What is Sales Enablement and Readiness?
If your sales team is having a difficult time bringing on new clients, it is time you do everything you can to help them. This means much more than a pep talk! They truly need a ppc sales enablement platform that makes closing high-quality leads simple. Sales enablement and readiness can be made much easier using Compass.
Before we go into that, let's first discuss what these two terms mean.
Enablement
This term describes what you do as a company to provide your sales reps with everything they need to go out into the field and sell. Sales enablement is all about giving your sales team the content, coaching, and training they need to succeed. In turn, enablement promotes overall sales-readiness.
Readiness
Are they truly ready for real-life interactions and potential customers? What kind of questions and roadblocks will they encounter? Readiness is the process of making sure they're prepared for real-world interactions. Sales readiness is all about certifying whether your sales team possesses the skills and knowledge they need to have effective conversations throughout the buyer's journey. It is the realization of sales enablement.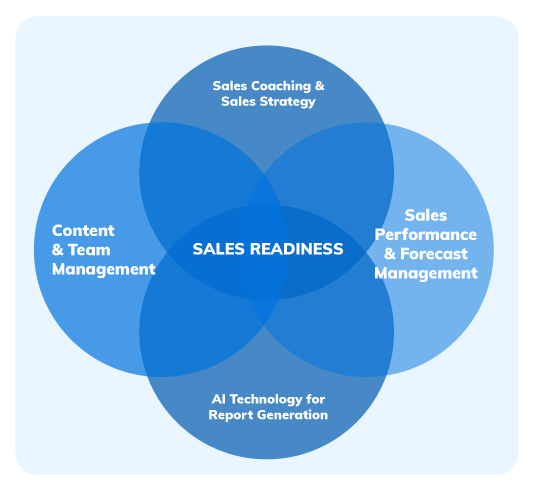 Which one is more important? The truth is that you need a strong focus on both in order to be successful in your sales efforts. In essence, sales readiness is the act of taking the potential made possible by enablement and turning it into action.
How Does White Shark Media Simplify Sales Enablement and Readiness?
It can be easy to get lost in the world of sales terminology and digital marketing lingo. Understanding the key differences between two similar terms can be challenging. This applies to sales readiness and sales enablement. At first, "readiness" and "enablement" seem to be nearly synonyms, like the two phrases are entirely interchangeable. They're not the same, but they're not opposite either.
Remember, readiness and sales enablement are not opposing forces. They share a common goal- to bring in new clients. One leads nicely into the other on the road to successful sales interactions that end with your leads signing on the dotted line!
Now that we've discussed sales enablement and readiness, we can focus on precisely what Compass is and how it makes these two concepts possible.
#1 It Helps Answer the Most Common Questions and Objectives
As briefly mentioned above, an essential aspect of readiness is being capable and confident in the real world. When pitching to potential new clients, there will be some questions. Perhaps there are even a few challenging concerns and objections to answering if your sales team has been adequately prepared!
The best way to handle this objection is simply by going over the facts. Your sales team has given their best pitch. This client wants to decide based on cold, hard numbers and not emotions. That is where our digital marketing platform truly shines! Compass makes the data easy to present and easy for them to understand. As soon as your client begins questioning your PPC service's price, benefits, performance turnaround, and more, your team can quickly clarify those concerns and move forward.
#2 You Can Close Deals Faster
Even if a deal is eventually closed, your sales team could be performing better if it takes too long. A more efficient team is a team that has the time to close additional sales. You can shorten processes by generating audits and proposals, train your teams with our PPC Courses, and leverage our experts' experience through consultations. That's right- Compass does all of this! When your sales team is incredibly knowledgeable and prepared, the entire process will move forward quickly.
#3 Your Sales Team Will Be Trained With Real-Life Experience
It isn't just about enablement; readiness is also a huge factor. You can work one-on-one with our sales experts to plan your agency's growth and success. Together, we'll review your current prospects, vertical strategies, pipeline opportunities, and the best practices that help scale your business. We have well over ten years of experience selling and providing digital marketing services, and we share it all with your team in our sales consultations.
How will you answer the most common questions about PPC? How will you deal with the most unexpected questions about your services? Our experts have the tools and resources to streamline and optimize your sales efforts. You'll learn to use them all with your team through these consultations. These sales consultations will help you confidently address all those potential concerns during the sales process so you can close more.
Both sales enablement and readiness are crucial for driving successful outcomes with potential clients and encouraging your sales team. White Shark Media's ppc sales enablement platform is the answer you have been looking for!
Compass is the sales enablement source you need to wow clients and prove your worth. Our solution has a specific design to help your team close more deals. Sign up for a demo today!