Compass is a sales enablement solution that is designed to help your team close more deals.
Each stage in the sales process requires different materials to move forward. No matter who you are pitching to, your team will have to prepare the necessary data and documents for each prospect. As the conversation progresses, these tasks can become long and tedious.
However, with the right tools, you can shorten the amount of time that you invest in this preparation stage. Our sales enablement tools help your sales team:
Generate audits and proposals
Train your teams with our PPC Courses
Leverage our experts' experience through consultations
Enhances Performance with WSM's Compass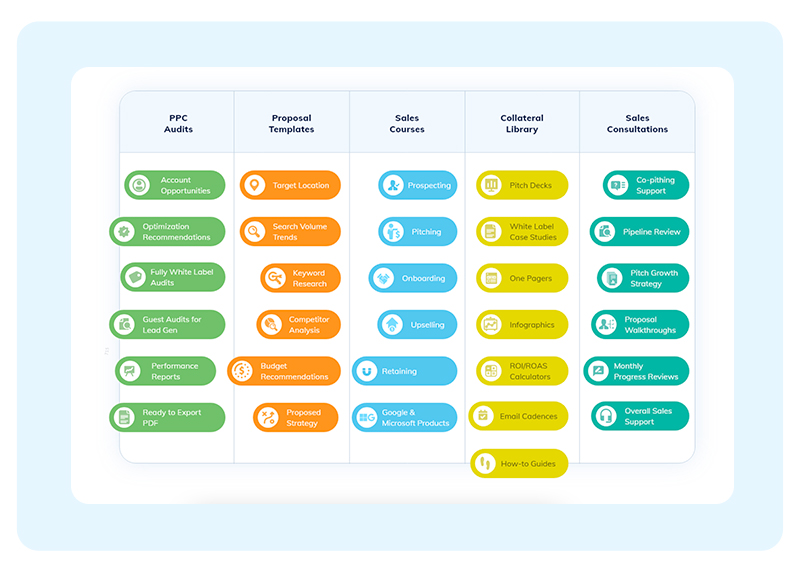 Compass reduces errors, increases profits, and exceeds your clients' expectations. It does this by providing a multitude of tools that can address each of your client's doubts and hang-ups.
Its user-friendly interface is easy to set up and start using. Your marketing agency will have the most effective resources to build better strategies to sell PPC services.
Plug-&-Play Into Your Sales Process
Prospecting
The initial prospecting state is when your team identifies potential customers. Who requires your services? How can they benefit? What challenges are they facing?
Compass offers 2-hour consultations with a team of Strategic Account Managers who guide you through prospecting guidelines. These consultations help each agency create the filtering processes that best serve their business. Skip the runarounds and stop investing in long dreary pitches that don't end in anything.
Making Contact
For many agencies and teams, identifying potential clients isn't the issue. The errors lie in the conversations that follow.
We often come across teams who depend on outdated and unverified resources. Our collateral library provides access to vertical trends, playbooks, pitch decks, one-pagers, videos, and more.
Lead your first talks with potential clients with the most effective materials. Our materials add structure to your discussion and guide you through the most critical points. You will have what you need to pitch or upsell PPC and all Google and Microsoft products.
Additionally, these resources shorten your preparation time and give new team members and seasoned sales representatives the confidence they need to succeed.
Understanding & Identifying Needs
Part of negotiating is identifying the client's needs and how you can be of service to them. Calculating this can be a daunting process as there is so much to cover.
However, by leveraging automated PPC audits, you can empower your team with valuable insights across all of your Google and Microsoft accounts without the long hours and stress.
AdInsights provides up to 30 performance-based recommendations and step-by-step instructions on how to implement them. Our partners can brand our tool and add it to their websites. Compass frees your team from the back-end work and opens up room so you can focus on your pitch.
Proposal Delivery
Once you've determined the client's needs, you can present your service. The proposal is the most important and delicate part of the sales process because it's the moment when you take everything you've learned -all the data you've gathered and the concerns you've discussed – and frame your offer.
If you don't know what you're doing, proposals can get tricky. It's imperative to present your offer in the most structured and orderly fashion possible. Compass helps our partners deliver new opportunities to their clients with a strong foundation of data and insightful information.
Our proposals include keyword recommendations, competitor data, ad previews and more, and it all comes in white label formats.
Handling Objections
Believe it or not, reaching the client's objections is good news. Getting this far means that your communication, structuring, and ideas are worth discussing further.
If you've gotten this far, you can think of every objection as an opportunity to discuss your client's concerns and explain how your services will make a difference to their bottom line.
If you are new or need a refresher to prepare for these objections, Compass offers sales teams ongoing learning with our sales and PPC courses.
Feeling concerned about a particular point? Jump on and stream a course before a meeting at your own convenience.
Closing The Deal
All of these resources are designed to help your team close more deals. Aside from providing them with the information that they need to address technical points, they will also acquire the confidence and expertise shared by our seasoned strategists and sales teams.
Your team can piggyback on our 10+ years of experience. We're here to help!
Conclusion
WSM Compass is an all-in-one solution. Save your agency time, resources and stress by providing them with all the PPC tools they need to succeed.